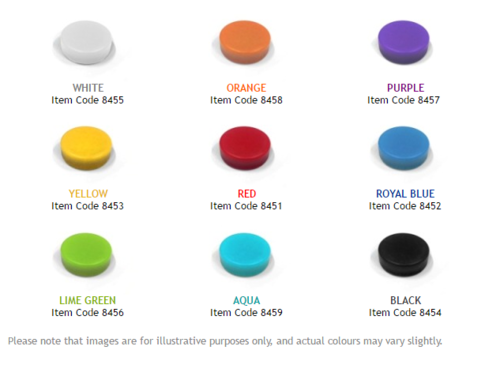 Coloured Button Magnets
Price And Quantity
Product Specifications
Magnets

Permanent Magnets
Product Description
MAXIMA RESOURCE ia a leading manufacturer of coloured button magnets in Bangalore.

Ferrite magnet encased in colourful hard plastic on all sides. Safe for children!
Diameter 30mm (3cm) x Height 10mm (1cm)
Use our Coloured Magnetic Buttons to organise your work and personal life!
These Button magnets are super handy and extremely popular!
These magnets can be used in workplaces, on office whiteboards, filing cabinets, warehouse racking, metallic cubicle backings, refrigerators, and more! If you have a metal surface, you'll love using memo magnets to organise your work, home or study space!
Each button magnet comfortably holds 7 sheets of A4 paper onto a magnetic whiteboard, or eight sheets of paper onto a fridge or filing cabinet!
Assign meanings to different Memo Magnet colours, and use them to de-clutter, arrange and streamline your work processes!
Hold and categorise letters, bills, receipts, lists, paperwork & memos together!
Write on them!
Label them with DYMO/Brother label tapes!
Pad-print on them, for a unique marketing device that stays on peoples fridges and filing cabinets!
WHITE
Item Code 8455

ORANGE
Item Code 8458

PURPLE
Item Code 8457

YELLOW
Item Code 8453

RED
Item Code 8451

ROYAL BLUE
Item Code 8452

LIME GREEN
Item Code 8456

AQUA
Item Code 8459

BLACK
Item Code 8454
Please note that images are for illustrative purposes only, and actual colours may vary slightly.

We use Coloured Magnetic Buttons here at Aussie Magnets!
We know you'll love them because we use them ourselves!
Coloured Magnetic Buttons play an extensive role on our job scheduling boards, production queues, and planning whiteboard. We use different colours to indicate certain document statuses, plan phases, and identifying teams responsible for project functions.
We also use them for simply holding paperwork together in one place; Coloured Magnetic Buttons are used on our office whiteboards, filing cabinets, warehouse racking, and metallic cubicle backings.
Coloured Magnetic Buttons keeps our office tidy and organised, and is part of the reason our job planning systems are so streamlined and efficient! :)
Bulk discounts available on quantities over 100 pcs. and then 1,000pcs.
32mm 25mm & 14mm Round plain fridge magnet also suitable for magnetic notice boards
It has a smooth plastic surface the assorted pack has one of each color except the white.
Contact Us
35/1, 7th Main, Behind Amba Bhavani Temple Vrushabhavathi Nagar, Near Amba Bhavani Temple, Kamaksipalya Bengaluru Karnataka India +918045803243
Phone :+918045803243